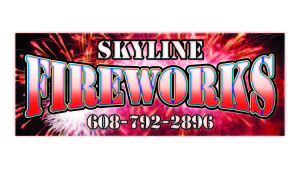 2016 Fireworks Events!
This Year Skyline Fireworks Will be holding Its 12th Annual Fireworks Event in Onalaska Wisconsin! At dusk The fireworks       will start, There will be live music leading up to the Fireworks Display! Everyone Is welcome To come Once again! This year the event will be held in the same spot as last year, At the end of the Pineview Drive addition Just off of O.T. I look forward to seeing everyone again this year And look forward to a great and safe 4th Of July! 
Address, W7057 Pineview Dr. 
Onalaska WI, 54650
Call- Luke Marcou 608-792-2896 for any questions!